"The success of implementing services, processes or systems is not dependent of the services, processes or systems itself but by the acceptance and willingness for behavioural change of the end user"
Hi, my name is Marcel Chaudron and I'm the change management blogger of changerebel.com. I have a great passion and interest for change management; business change & transformation but also personal change and in particular the psychology behind people's behavior during change events.
I find it fascinating how new technology and its application continually change the existing world. My motivation is to change organisations and improve results by integrating technology and data into the business.
I'm a strong PROSCI® Certified Change Management Practitioner with a great track record of stakeholder management and leading cross-country change management programs. In my + 20 years of working experience I spend the last 10 years working with change and operational excellence across Europe. From implementing a CRM system across 18 markets, implementing employee training SaaS platform Schoox, Implementing OKR platform Perdoo, updating all business processes and large organisational change like merging local and support teams.
As COO I was responsible for the operational performance, operational excellence and acting as change sponsor for all change management programs across Europe using the ADKAR goal-oriented change management model. In my current roles as Interim Senior Change & Communication I'm responsible to define and execute the change strategy for multinationals
Besides working with all common change management models like ADKAR, Kotter and Lewin, I have a strong background in the psychology behind change management and especially working with The Elephant and the Rider metaphor. We must have an intimate understanding of the human side of change management.
I have experience with the following change management models
ADKAR-model (PROSCI)
Lewin's change managementmodel
McKinsey's 7-S model
Kotter's theory
Kubler-Ross' change curve
Elephant & the Rider
My change management experience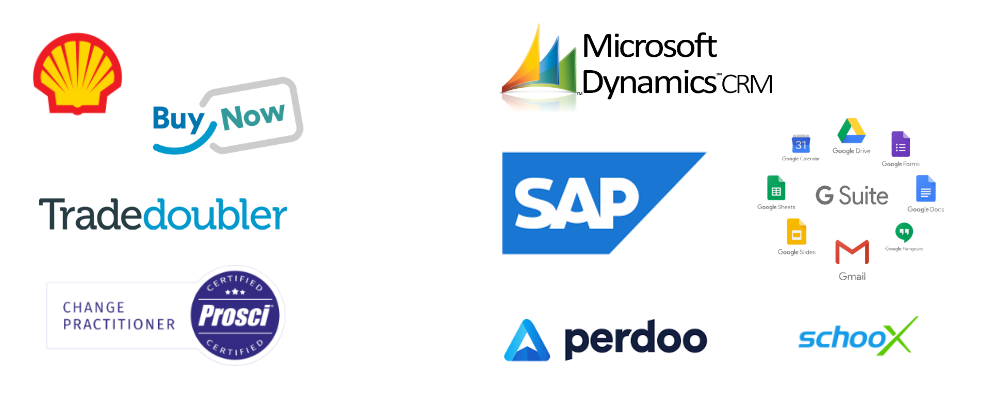 Defined the change management and communication strategy for a SAP cloud migration project including a change impact & risk analysis
Build the stakeholder engagement list and plan the communication towards these different stakeholders across three regions; Europe, India and America
Designed, planned, executed and monitored the training programme for the end users of the new SAP cloud-based monitoring tool. Worked closely together with the project manager during these trainings
Day-to-day stakeholder relationship building to get sign offs from each database owner for project closer
Support, coached and motivated the change and communication team
Implement new governance structures
Defined programme communication strategy: Yammer posts, executive (sponsor) communication, team events and programme status and action reporting towards programme governance
Implemented agile way of working in the change & communication team using Azure Devops
Defined and Implement change management strategy on workstream level
Working as COO, VP Affiliate, group client service director, Product Director and Director Operational Excellence
Leading all change management & Operational excellence programs across Europe
Successfully implemented (technically) and deployed (usages) of a new CRM (MS Dynamics) system across +500 employees and 18 European markets

Business owner
Requirements analyst
Global change leader for the local deployment and acceptance – designed and delivered the training
Coaching and support the local change leaders

Organisational change – Decided and successfully dismantled a centralised support organisation from Telford (90 FTE's) and transformed all these tasks parallel back into our local offices.
Change sales culture and mindset of the sales teams
Merged two organisations, Affiliate and Technology into one organisation in each of the local markets
Introduced Objective and Key results (OKR) across the whole organisation so that all employees understand the company objectives and how their day to day actions are contributing towards these objectives
Successfully transformed the support mindset to a value creating and growth mindset to create smarter results for our clients
Implemented the ideal local organisation to maximise growth, contribution & profitability across all teams in Europe
Managed to focus on program profitability. Reviewed all programs and time spend to maximise profitability for all our programs with a strong focus on value creating tasks. Defined and implemented the client life cycle process
Defined and implemented together with a strategy team a new company wide strategy
Reviewed and implemented business processes across all business unites to drive efficiencies
Implemented a product life cycle, from Idea to end of life
Implemented a 10 step sales, delivery and support process
Defined my own 'tiger team' with high profiled employees to drive the necessary change in the company. Conduct a situation analysis, change impact & risk analysis
Part of the strategic learning process of the new management team, defining and executing the new company strategy
Worked with lean six sigma, strategic learning and followed the "elephant and the rider" principle in change management